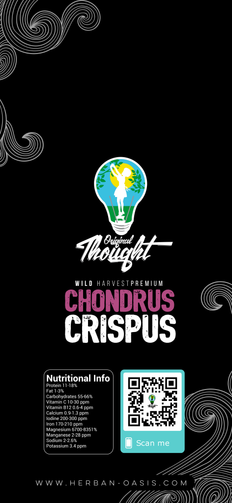 Irish Sea Moss Gel (Chondrus Crispus) (Net Wt. 24oz)
Irish Sea Moss Gel (Chondrus Crispus) (Net Wt. 24oz)
Regular price

$32.00

Sale price

$25.00
Please see our other sea moss products like the "30-Day Supply of Tablets" or "102 Formula" if you are concern about not getting your gel on time due to USPS delays.  
This product only ships Mondays and Tuesdays during Covid-19 to maintain the highest quality and integrity 



Noticed health benefits:
Builds Soft Tissues and Cartilage of Joints and Bones

Polifates Rapid Cell Growth

Thyroid support in cases of low iodine levels. 

Improvement of mental function and emotional health 

Regulates Digestive Systems.

Prevention of nasal congestion.

Boost Immune System

Rids the body of mucus

Treatment of chronic obstructive pulmonary diseases such as bronchitis.

It helps to tighten the skin and minimize pores while adding minerals when used for facial skin care.Sea moss can also work as a mild laxative, making it effective in soothing gut inflammation and promoting the elimination of waste.
Our Gel is great in tea & other hot/cold beverages, smoothies, food, or alone.
Instructions
: 
Store Sea Moss Gel IMMEDIATELY upon delivery.

GEL LASTS FOR TWO TO THREE WEEKS REFRIGERATED! Freeze if you will not use it immediately 

1-2 tablespoons are the recommended amount daily. 
Ingredients:
Wild - Harvest Chondrus Crispus Sea Moss (Sourced in Ireland)

Spring Water 
Processing:
May take up to 5 business days to process during high seasonal demands. Handling with care in a sanitized environment. Crafted with Love.
Shipping: 
Shipping takes 2 business days. Once shipped out, you will receive a tracking number in your email. It can only be shipped by priority mail and will need to be refrigerated promptly upon arrival. So please be sure to track your package and do not allow it to sit in your mailbox, especially during a high-temperature day.
*Disclaimer - The information presented herein by Original Thought LLC  Sea Moss Gel is intended for educational purposes only. Individual results may vary, and before using any supplements, it is always advisable to consult with your own health care provider. 
Indigenous to the unpolluted, cold Northern Atlantic waters of Ireland. Nurtured by the holdfast mineral rocks and ocean waters. Harvest by a local family who has done so for several generations. This is truly Irish Moss!
Couldn't load pickup availability