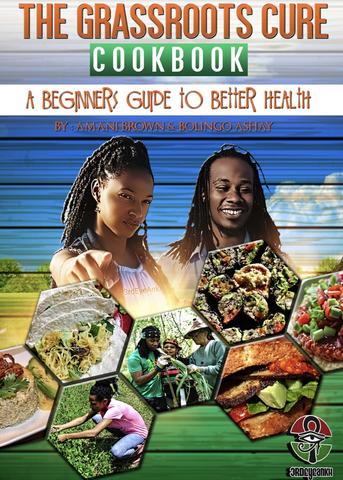 Grassroots Cure Cookbook (pre-order)
Grassroots Cure Cookbook (pre-order)
Regular price

$20.00

Sale price

$15.00
Since the beginning of time, people have always based their lives, locations, and celebrations around one very significant thing: food. The land has been shaped and reshaped due to the migrational path our ancestral travels. Mankind is truly a God-bodied marvel that has evolved and adapted to mother earth; but unfortunately, not all of Man's endeavors have genuinely aided the greater good.
Due to scarcity, feminine, and necessity, newly engineered foods have been staples to many industrial cultures. It is understandable how this was a means of survival yet unknowingly hazardous to the body because of its acidity; for instance: corn, wheat, soy, carrots, and certain potatoes. These GMOs (genetically modified organisms) have introduced our society to large doses of poisonous sugars, starches, and other acids that feed on our body's cellular structure instead of our body feeding on them. The result of these GMOs and hybrid foods is the breaking down of our cell's membrane which causes rapid internal deterioration. The influx of toxins, poisons, plaque, and mucous causes: 1) internal and external stress which is a precursor that is 2) follow by a whole host of diseases.
Any and every needed to thrive and heal the nations has already been provided to us by the Creator. This book is purely a stepping stone to getting back (closer) to nature.
By Maranda Brown
There's more information in store for you, check out this cookbook today!
Couldn't load pickup availability