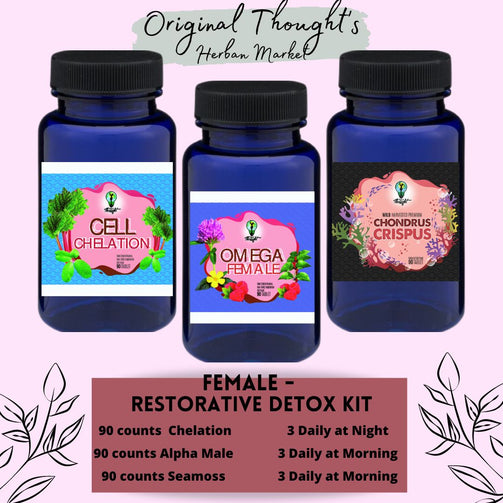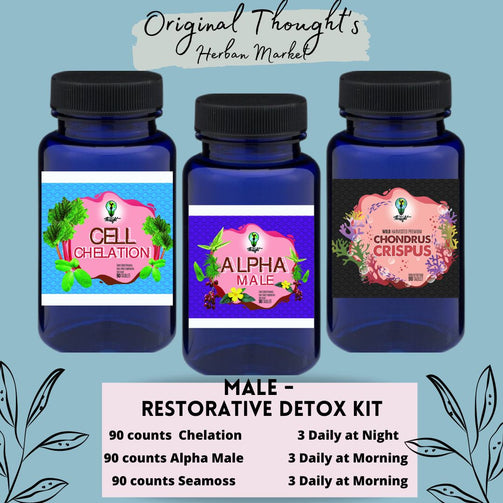 Restorative Detox Kit
Restorative Detox Kit
Regular price

$125.00

Sale price

$75.00
A restorative system that aids the whole body in adding vital minerals, regulating chemistry and remove abnormal & excessive internal waste.
What comes in this kit? 
Three powerful herbal compounds each bottle has 90 tablets of:
Cell Cleaner Tablets- rids the cells and intestinal tracts of waste

Sea Moss Tablets - a dense superfood that provides the body of 92 key vital minerals. It is also a metabolism and thyroid booster. (Bladderwrack and Burdock Added)

Male or Female Formula Tablets - a restorative compound for hormonal and chemical balance, energy and vitality



Suggested Use:
We suggest taking the cell cleaner after work or school before dinner with plenty of water; and take the iron & female or male formulas in the morning with plenty of water with or without food or as recommended by a healthcare professional.
Noted Benefits Includes:

Circulatory Systems


Reproductive Systems


Lymphatic Systems


Digestive Systems


Urinary Systems


Respiratory Systems

Eliminates waste in the

 

intestinal tracts

Helps with Weight loss
For those who have serious health issues, a consultation is needed to advise on how long or how many months it will take to raid the body of its dis-ease. This kit will remove mucus, abnormal cells, heavy metal toxins, poisons, viruses, and bacteria; then restore balance to all systems.

Email us at 3rdeyeankh@gmail.com for additional assistance.
key ingredients:
cascara sagrada, rhubarb root, yellow dock, burdock root, sarsaparilla root, dandelion leaves and root, red clover, red raspberry leaves, damiana, or yohimbe bark, chondrus crispus, bladderwrack, and agave fibers (as a binding agent)
*These statements have not been evaluated by the Food and Drug Administration. This product are not intended to diagnose, treat, cure or prevent any disease. 
Couldn't load pickup availability