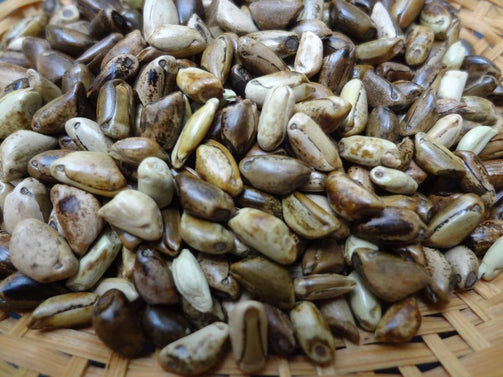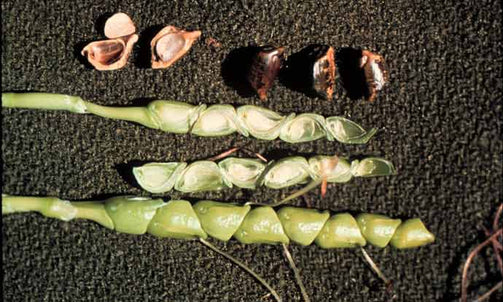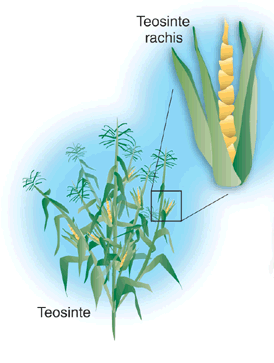 Teosinte (Wild Corn) Seeds 4 oz
Teosinte (Wild Corn) Seeds 4 oz
Regular price

$0.00

Sale price

$10.00
Teosinte is a wild grass in the Poaceae family that includes the species Zea mays (in addition to other wild grass species:  Teosinte and maize are different subspecies of the species Zea mays, but maize, as a result of domestication, has been selected by humans over thousands of years to have more kernels, bigger cobs, more rows of kernels, and exposed kernels that are more edible. 
Plant Teosinte as you would corn. Fertilize and treat like corn. Teosinte is a hard seeded grain and will reseed itself each year. Simply wait until the following spring and lightly till the soil and Teosinte seed will sprout and produce a wildlife crop for many years to come. You may consider planting 10 lb of Sunn Hemp with 5 lb. Teosinte with zero fertilizer. Both are reseeding and will come back the next year. For wildlife consider planting long narrow strips along woodland edges. Or plant along field borders intended for dove shoots. Soil pH 5.8-7.0. Hardiness zones 4-8. Annual.
Days from maturity calculated from the date of seeding. Average 556 seeds per ounce. Average 15 lb per acre. There is no Federal germination for teosinte. Usual seed life: 5-10 years. Isolation distance for seed saving: 2 miles.
Planting Depth
1-2"
Soil Temp. Germ.
55–65˚F
Days to Germ.
4-14
Plant Spacing
8"
Row Spacing
30"
Days To Maturity
80-100Full Sun
,
Moist Well Drained

Teosinte Seed Count 
.25 Pound ≈ 2,224 seeds
1 Pound ≈ 8,894 seeds
5 Pounds ≈ 44,470 seeds
25 Pounds ≈ 222m seeds
Couldn't load pickup availability