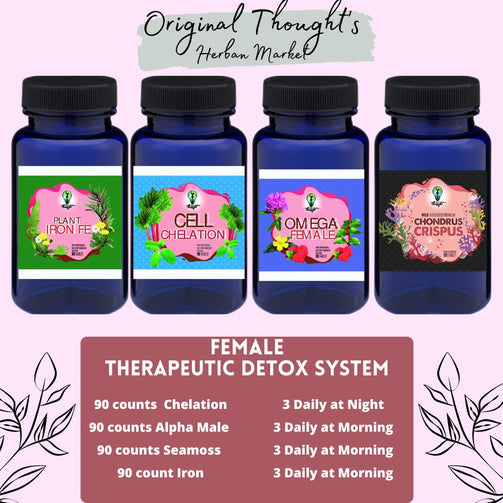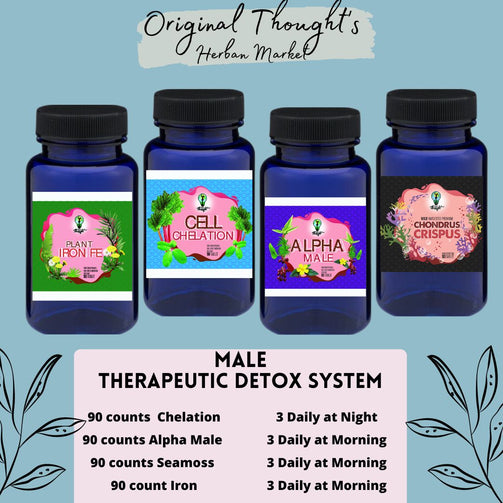 Therapeutic Detox System
Therapeutic Detox System
Regular price

$150.00

Sale price

$100.00
This kit was created to provide a  more powerful and effective 30 - Day cleansing and  detoxifying method for the blood and body's systems.
What's in this kit?
Four herbal compounds each bottle has 90 tablets of:
Cell Detox Tablets- rids the cells and intestinal tracts of waste
Iron Formula Tablets - aids in rebuilding minerals that are critical for new cell growth and purification 
Male or Female Formula Tablets - a restorative compound for hormonal and chemical balance, energy and vitality
Sea moss Tablets - a dense superfood that provides the body of 92 key vital minerals. It is also a metabolism and thyroid booster. 
Suggested Use:
We suggest taking three tablets of cell detox pills after work or school before dinner with plenty of water; and take three of each of the Fe iron formula, sea moss & female or male formula pills in the morning with plenty of water with or without food or as recommended by a healthcare professional.
Noted Benefits Includes:

Improves the Circulatory Systems


Repairs the Reproductive Systems


Builds a solid Lymphatic Systems


Stimulates the Digestive Systems


Detoxifies the Urinary Systems


Strengthens the Upper Respiratory Systems


Rich in Iodine for the Thyroid and Pituitary Glands

Enhances Mental Clarity and Mood

Improves Skin, Nails and Hair

Eliminates waste in the intestinal tracts

Helps with Weight loss
For those who have serious health issues, a consultation is needed to advise on how long or how many months it will take to raid the body of its dis-ease. This kit will remove mucus, abnormal cells, heavy metal toxins, poisons, viruses, and bacteria; then restore balance to all systems.

Email us at 3rdeyeankh@gmail.com for additional assistance.
key ingredients:
cascara sagrada, rhubarb root, yellow dock, burdock root, sarsaparilla root, dandelion leaves and root, red clover, red raspberry leaves, damiana, yohimbe bark, soursop, Irish sea moss (chondrus crispus ), bladderwrack (fucus vesiculosus) and agave fibers (as a binding agent)
*These statements have not been evaluated by the Food and Drug Administration. This product are not intended to diagnose, treat, cure or prevent any disease. 
Couldn't load pickup availability