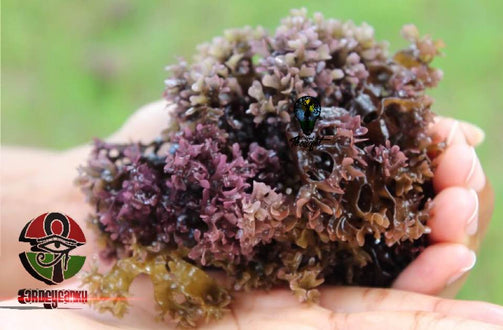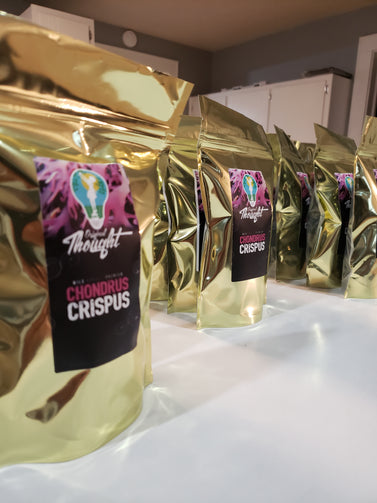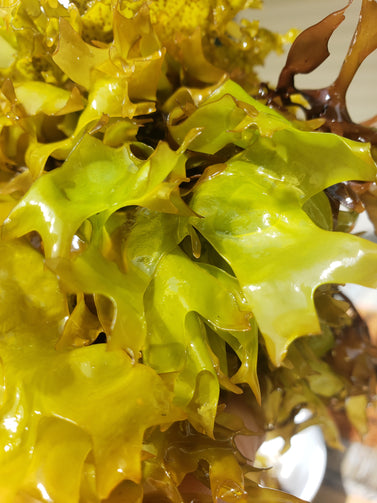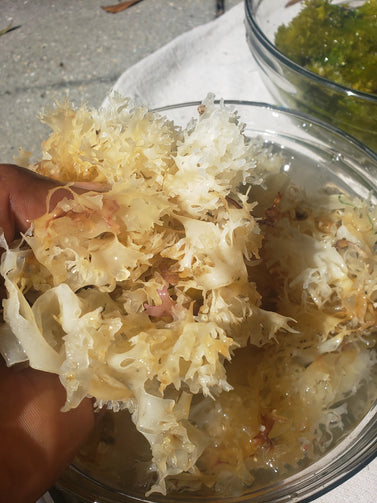 Wild-Harvested, RAW Sea Moss (Chondrus Crispus Dried)
Wild-Harvested, RAW Sea Moss (Chondrus Crispus Dried)
Regular price

$50.00

Sale price

$35.00
Much of the Irish Moss harvested around the world is farmed in places like the Philippines and Indonesia, Cultivated Sea-moss in Grenada with plastic rope and plastic bottles may result in a product void of Nutrition. Sea-moss should not be dried out in the sun and cured with sea salt for the day at a time. In some plants like the Chondrus Crispus, heat activates or draw out certain minerals in the plant.

When softened in 

water

 it has a 

sea

-like odor and because of the abundant cell wall polysaccharides, it will form a 

jelly

 when boiled, containing from (20 to 100 times) its weight of 

water

.

Chondrus Crispus adds strength, resilience, and elasticity to all the connective tissues, joints, and muscles. Great for Strong bones, healthy tooth enamel.
2oz yields 4 - 5 pounds of gel
4oz yields 8- 10 pounds of gel
This cold water Chondrus Crispus is packed with
Calcium
Iodine
Iron
Magnesium
Manganese 
Potassium 
Brief Summary:
92 minerals and rich in iodine and bromide, high in zinc, calcium. This wonderful combination has many different health benefits. Addresses the bones, soft tissue, removes excessive fluid, helps to dissolve body fat, great for the hair, skin, and nails. It also works with the kidney and thyroid glands. 
 Indigenous to the unpolluted, cold Northern Atlantic waters of  Ireland. Nurtured by the holdfast mineral rocks and ocean waters. This is truly 
Irish Moss
The health benefits:
Builds Soft Tissues and Cartilage of Joints and Bones Proliferates Rapid Cell Growth
Thyroid support in cases of low iodine levels.
Improvement of mental function and emotional health
Regulates Digestive Systems.
Prevention of nasal congestion.
Boost Immune System
Rids the body of mucus
Treatment of chronic obstructive pulmonary diseases such as bronchitis.
Bladderwrack and Chondrus Crispus also possesses antiviral properties that aid in fighting respiratory infections such as sore throats
It helps to tighten the skin and minimize pores while adding mineral when used for facial skin care.
Sea moss can also work as a mild laxative, making it effective in soothing gut inflammation and promoting the elimination of waste.
This raw moss is made into a gel to be prepared in smoothies, teas, juices, and added to recipes as a mineral-dense booster or thickening agent.
PLEASE ALLOW  US TIME FOR HARVESTING, PROCESSING, and SHIPPING!!!
The Irish Moss harvesting season ranging from Summer ( around June) until the waters gets to cold (November). Yet normally wait time 10-15 business days. 
IF YOU CANNOT WAIT  LONG PLEASE EMAIL FOR WAIT STATUS AND AVAILABILITY. 
PLEASE BE PATIENCE, AS MANY PEOPLE WORLDWIDE ARE LOOKING FOR FRESH, WILDCRAFTED CHONDRUS CRISPUS AKA IRISH SEAMOSS.
RESPECTFULLY,
BOLINGO AND MARANDA
OWNERS
How to process Chondrus Crispus, Sea Moss:
The amount to be soaked and gelled depends on how much you can store in refrigerate and use within a week. I usually get a handful of dried moss and place it in a medium bowl and let it soak for 20 minutes. 
Then I pick all the little creatures out of it (most are small and yellow), and I rinse and soak for a second time. Next, I will boil 2 cups of water, once the water is rolling, cut the heat and drain the water from the bowl then place moss into the pot. Let this sit and stir until it is gel-like. Lastly and this is optional if you have a blender and want to smooth the moss out, use a blender and a cup of water to smooth it into a puree texture. Store in a glass or plastic container with a lid in the refrigerator.
How to use:
Sea Moss Gel is a powerful multi-mineral complex that concerns 90 minerals. This is a seasonal product meaning it is not always very year round. 
This compound is great for joints, bones, digestive and respective functions. Helpful with rebuilding the immune system which jumpstarts the whole body's system as well. Great for cancerous cells, thyroids, mucus build-up, and bad breath. The list goes on and on… Consider this your "one-a-day" or even prenatal supplement.
Directions:
One teaspoon or tablespoon per 8 oz of fluid preferably hot water as a tea or add it to your smoothies. This product can be modified per each individual taste up to 3 times a day. 
*if you find that this is not for you, please consider the seamoss/bladderwrack in tablet form.*
Couldn't load pickup availability